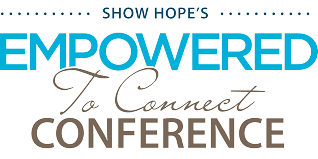 April 13th - 14th
Registration is now OPEN for the Empowered to Connect Live Simulcast

Empowered to Connect is a 2 day conference started by Dr Karyn Purvis of Texas Christian University that equips parents, ministry partners & professionals and other adults with the tools how to care for kids from hard places.
All adults that have kids in their lives should attend! Social workers can earn continuing education credits.

Show Hope , Steven Curtis & Marybeth Chapman's Ministry, came alongside of ETC a few years ago so that a live Simulcast would exist and you wouldn't have to travel all the way to Chicago for the live event.

Come experience practical teaching in a safe and supportive community as we work to equip families, churches, and professionals to better serve children impacted by adoption, foster care and other "hard places" like early childhood trauma or difficult pregnancy.

Featuring Trust-Based Relational Intervention® methods developed by Dr. Karyn Purvis and Dr. David Cross from the Karyn Purvis Institute of Child Development, this conference helps bring attachment and connection in families.

Shady Grove Church will be hosting this Empowered to Connect LIVE Simulcast conference FREE again this year.

Friday, April 13, 2018 10-6p
Saturday, April 14, 2018 10-6p
(lunch on your own 1:15-2:15p)

Shady Grove Church will provide light refreshments for both days. We will distribute a list of local restaurants for off-site lunch.

There is a small registration cost for those professionals that need to earn the 11.5 hrs of continuing education credits. You will be given that website after you fill out the general registration. NASW will need to take a post test and earn an 80% or higher .