COVID-19 Response
Updated: Apr 6, 2020
Cancellations:
Here is a current list of what has been cancelled until our Governor lifts his ban:
No Sunday School (all ages)
No church sponsored youth gatherings

No ESL classes until after Easter

No LEAP gathering at SGPCA (homeschool co-op that meets on Mondays)

No congregational lunch on March 22nd

No Evangelism Conference with Dr. Randy Newman (we will reschedule this event)

No Easter Egg Hunt on Saturday, April 11th

No New Bern short term missions trip during Easter break

No Small groups meetings over 10 people
Weekly Virtual Schedule:
Sunday morning worship service at 10:45am on Facebook & YouTube Live

Sunday evening Cornerstone Youth Bible Study at 7pm on Facebook & YouTube Live

Daily Noonday Prayer (Monday – Friday, 12-12:15pm) on Zoom:
https://zoom.us/s/291694952

Thursday night Youth Bible Studies at 7:30pm on Zoom

Good Friday Bible Study & Prayer at 7:30pm on Zoom
Coming Soon:
Starting in April, Wednesday evening Book Read & Online Gathering discussing Rebecca McLaughlin's Confronting Christianity: 12 Hard Questions for the World's Largest Religion on Facebook & YouTube Live

Equipping Parents to Lead Devotionals: New City Catechism for children and families on Zoom

Study discussing Timothy Lane's Living Without Worry on Facebook & YouTube Live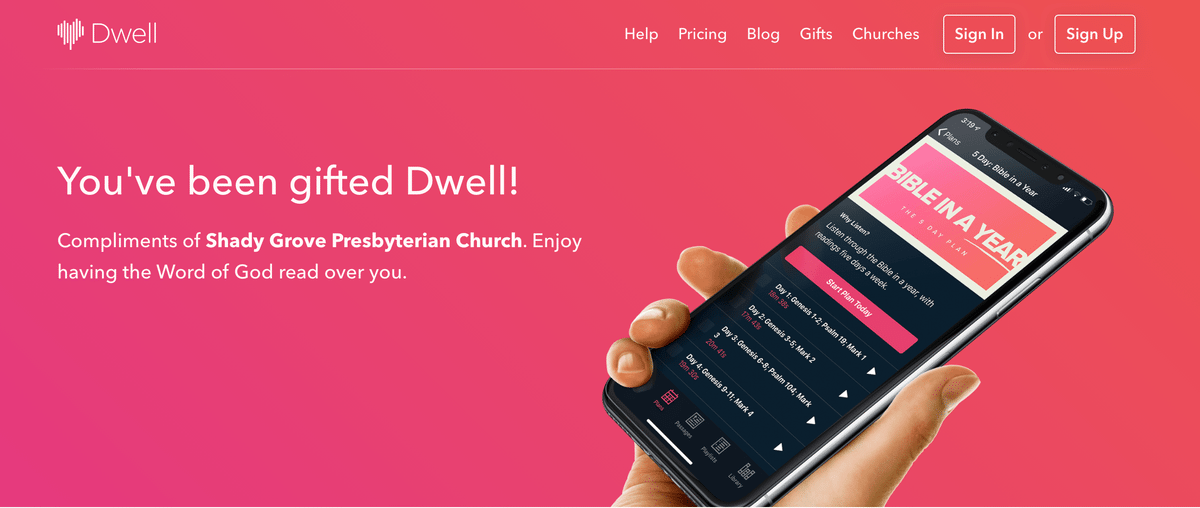 You've been gifted Dwell!
Sign up for a special 60 day free trial! (No payment information necessary)
Dwell is an audio Bible app with a wide selection of voices to hear from, wonderful background music, beautiful artwork, and a limitless selection of listening plans.
Join Shady Grove Pres Dwell group
Ligonier now free to stream
You may have heard: Ligonier made their library for free right now.
"The secret is Christ in me, not me in a different set of circumstances!"
- Elizabeth Elliott