COVID-19 Response
Updated: September 22, 2020
Weekly Virtual Schedule:
Sunday morning worship service at 10:45am in person (and outside) and broadcast live on Facebook & YouTube Live

Sunday evening Puritan Course at 7:30pm on Zoom

Sunday evening Cornerstone at 6pm, study starting at 7pm on Zoom

Noonday Prayer (Monday, Wednesday, and Friday, 12-12:15pm) on Zoom

Outdoors Wednesday night Young Adults Study at 7:30pm

Thursday night Youth Bible Studies: 7pm in person and 7:45pm on Zoom
To participate in one of the Zoom events, please email [email protected]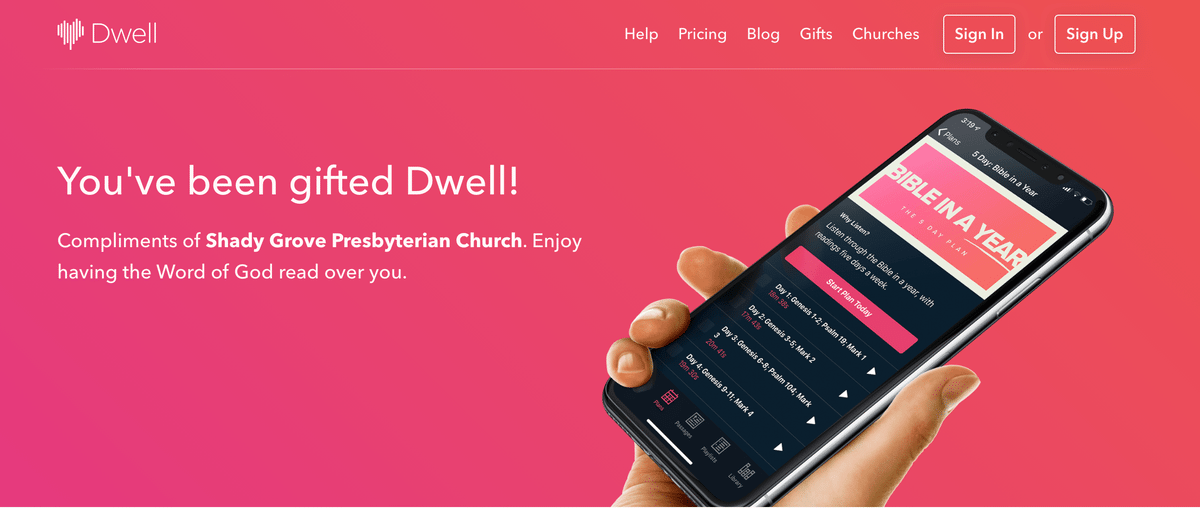 You've been gifted Dwell!
Sign up for a special 60 day free trial! (No payment information necessary)
Dwell is an audio Bible app with a wide selection of voices to hear from, wonderful background music, beautiful artwork, and a limitless selection of listening plans.
Join Shady Grove Pres Dwell group
Ligonier now free to stream
You may have heard: Ligonier made their library for free right now.
"The secret is Christ in me, not me in a different set of circumstances!"
- Elizabeth Elliott